The Journeyman Press Difference
We take pride in everything we do.
If you asked any of our clients why they choose Journeyman, you'll probably hear a familiar refrain: it's the people. If we had to name a particular quality they appreciate, it's a penchant for exceeding their expectations. Being incredibly responsive is part of who we are as a company; it's ingrained into our culture. Our team is incredibly talented in every facet of print, mail production, and delivery. So, not only do we get the job done, but we also tend to get it done faster—we're dependable and always available.
There are thousands of printers out there, and many have similar equipment. Here at Journeyman, it's about a lot more than what we have on the floor. It's about the relationships we build and the personal service we deliver. To us, every client and every job matters.
To start, let's define what a "Journeyman" is… A journeyman is a worker, skilled and apprenticed in a given trade or craft. They are considered competent and authorized to work in that field as a fully qualified employee. Every member of our staff came to us with a skill set that set them apart. And, it has escalated since joining our team.
Journeyman Press started as Letchmere Lithograph in 1980. The name was changed in 1987 when Steve Silverstein came on as president. Today, Dana Thoms is at the helm, having taken over as owner in 2014. Dana was the Operations Manager there before purchasing the company, so he knew what to expect from the inside. Dana's love for the print industry comes from 25+ years of hands-on experience. His employees equally share his enthusiasm for printing.
As part of Journeyman's commitment to its clients, the company continues to invest in the future of printing. We purchase new equipment and expand our offerings to give clients what they need and deserve. As the industry changes, so do we.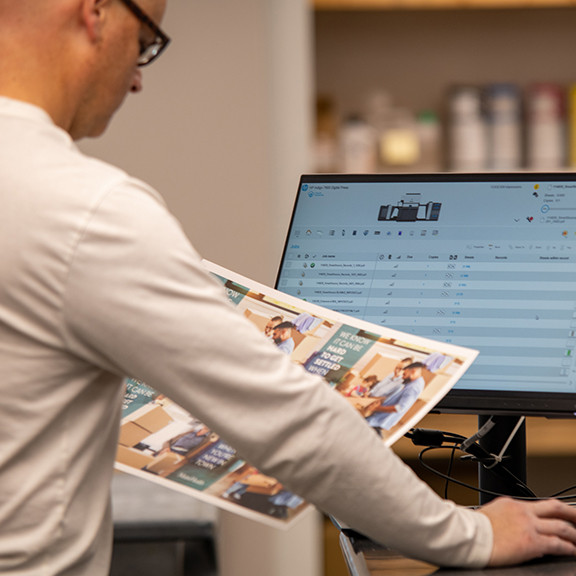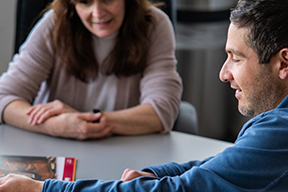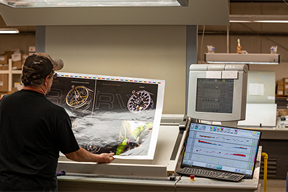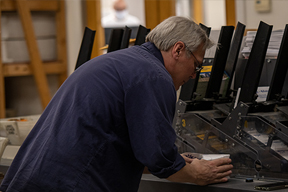 At Journeyman Press, our strength and dependability come from our amazing team of professionals who love what they do.
Project Management
Although customer service rep is a common title in the print industry, it doesn't do justice to our Project Management team. Here, where caring for customers comes first, this is the most important role and is highly vital to the success of Journeyman Press.
Their function is complex.
They maintain critical business relationships.
They monitor the production of jobs all the way through the plant.
They communicate extensively and proactively with their customers.
Our team has over 125 years of print industry experience among them. They have an extensive print knowledge base, and they have broad experience working in every department within a printing company.
Journeyman's Project Management team is not "sales back up." Some have run presses and run entire departments. They have ordered paper, done estimating, run bindery equipment and handled quality control. They know about digital as well as commercial printing and their hands-on manufacturing experience is what makes them exceptional.
Our team is the beating heart of the company, in that they are personally responsible for working with our customers and ensuring that work is produced as expected. Job by job, they help instill trust in Journeyman Press, and they do it by giving every customer personal attention.
Prepress
Our prepress department is the nucleus of our company. Our operators are skilled in all aspects of file prep, color management, imposition, and proofing. Most of all, they are thoughtful and purposeful with their work, treating each and every project with the uniqueness that it deserves.
Finishing & Bindery
"Crackerjack" is how we describe our finishing and bindery department. Our seasoned staff puts all of their know-how into every project that comes through this department, from the simplest of projects to the very complex—all with an eye on quality and timeliness.
Mail & Fulfillment
These mail and fulfillment superheroes move at lightning speed and crank through hundreds of thousands of pieces of mail each month. They are experts at list and data management and always on the cutting edge of the newest methods for managing mail and fulfillment—yes, always!
Support Services
Our Quality Control, Shipping and Receiving, and Operations Management Departments boast a highly-skilled staff of consummate professionals, all eager to deliver the best service you've experienced.
Needless to say, it takes a team, a family, of dedicated employees to deliver the best possible outcome to our clients. All of us hold our client relationships close to our hearts.
Let's Start Something New
Tell us what you need and we'll make it happen.